Continuing our video series on the Prairie Village Home that we rebuilt from top to bottom in 2010, Donald Tucker takes a look at the much needed Patio Door Replacement.
When we first assessed, we needed a comlete patio door replacement.
The door itself and all the trim had been destroyed by the 20 or more dogs living in the house (yes you read that right – 20 dogs, too bad we could not videotape the smell for you) who were always scratching at the door to get inside or to get outside. So replacement is needed.
At the same time, we were also replacing all the siding and we wanted to make the family room addition more connected to the patio. This gave us two options a nice big sliding door or a nice big french door with lots of windows. This would give easier access to the patio and bring in some much-needed light into the family room.
Wondering how much it would cost for patio door replacement? Fixr.com estimates $1,000 on the low side to $4,000, with an average of about $2,500 to install french doors. The costs are going to depend on mostly the materials. With Vinyl being the lowest cost, aluminum about mid-range, and wood being the most expensive. You can probably also figure about the same costs should you want to use a sliding glass door.
Checkback next week for the next installment on this Prairie Village home where we replaced the full roof and gutters, plus all the windows, the doors and the siding. If you have a home that needs this much work, and you just don't want to spend the time or the money, another option is to sell the home.
Make No Repairs, Sell Your House As-Is Today
Contact the Tuckers at kcmoHomeBuyer.com to sell your Home Today! There is no obligation or cost. Why fix it when you can sell it?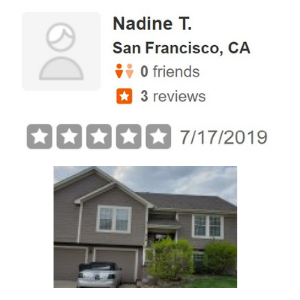 My experience with this company was just totally amazing. I am very thankful for contacting this company.
If you want to sell your home, please contact Scott Tucker at kcmoHomeBuyer.com. My experience with this company was just totally amazing. Hassle-free no agent fees, costly inspection repairs, no open house days, no never-ending potential buyers who want to deduct this and that from the asking price. Scott Tucker gave me a very fair price for my home. Also, after I agreed to a closing date, I needed an extension date and they agreed to my time frame. Scott Tucker was awesome to work with from start to closing, with no hidden fees. I am very thankful for contacting this company. Thanks again from Nadine T.