We've been waiting for it to happen, the iBuyer finding their way to Kansas City. Not sure why we need big corporate companies, like Opendoor coming in and buying up all the houses and sucking all the profits out of our metro when there are 100s of cash home buyers that do much of the same thing and keep and spend their profits locally.
But whatever.
Opendoor is here, so we wanted to review their services.
If you visit their website it tells us that you can "Sell Your Home. Skip the Hard Parts." Then they explain "Here's how we cut out the unnecessary steps to make selling your home easy, fast, and stress-free.
Step 1: Get an Offer in Minutes
Now that is really really scary. As a Real Estate Broker and Investor in Kansas City for over 20 years, my team and I can take your address, plug it into the internet and get a good idea of what homes in your area are worth. We can even look at photos and videos that YOU take in step 2 to get a good guess of what we will need to be fixing and repairing. And we can make you an offer in minutes with these items.
Sometimes this offer might stand, but sometimes, after we actually LOOK at your house, our offer might change drastically. You see there are so many things that can be wrong with a house, that (1) never makes it into a photo or video or that (2) just don't show well in cell phone video. So Opendoor or anyone making an offer based on a phone conversation, or worse yet, just your address is not necessarily making an offer they can stand behind.
In fact, that is a hard and fast rule when we list and sell houses, DON'T ACCEPT OR NEGOTIATE ON OFFERS WHERE THE BUYER HAS NOT SEEN THE HOUSE. EVER!
Step 2: Do a video walkthrough
Well, this is not too hard. The average American has a phone with a video camera and can do this. Well maybe not my 95-year-old father-in-law, or a seller that lives out of state, but most everyone else can.
Step 3: Close and move, stress-free
So they send you an offer by email based on your address and photos and whamo bammo, you are closing.
Not so fast Opendoor, you missed a few steps.
We wanted to see how the process actually works, so we submitted the address of a home we had for sale.
Step 1: Enter Your Address:
The Opendoor website asks for an address and once you enter it, it thinks about it for a minute and if they buy houses in the area and the address fits whatever criteria it has, they then ask for an email address.
The address we submitted was actually listed, they noted that when they asked for the email.
Step 2: Set Up Your Account
In a few minutes, we received an email asking us to set a password and finish setting up our account. That took a minute and now, I have an account and an offer to review.
Step 3: View Offer & Upload Photos & Documents
Next, they did provide an offer that was a certain percentage of market value, but not really the price we were looking for.
The link gives me 5 more steps.
The offer to review.
Submit Photos: As our home is listed in MLS and has photos and videos out there on the internet, so they didn't need those. We are assuming that if the home was not listed, we would have had to upload the photos or the video walk through that we listed earlier.
Seller's Disclosure: They also want a seller's disclosure or if it were not listed, they would have the seller's disclosure for you to fill out,
Exterior Assessment: They also actually need to schedule a time to come out and look at your house from the outside, and I am guessing they will at that appointment actually want to get inside?
Adjust Offer: The last step at this stages is for them to adjust their offer to reflect any repairs noted in the seller's disclosure, the photos and video walk through and from the outside assessment.
Step 4: Get final offer and close
But again, I think they are missing a few steps.
If we look at the frequently asked questions we get a bit more information:
How did you come up with this offer?
Well, it seems Opendoor does the same thing we do here at kcmoHomeBuyer. They look at comparable listings and sales data for the area to come up with what they think is the average sales price for your home. Now they use a computer-generated initial offer, but then after reviewing the disclosures, photos, and outside assessment, we hope a real person comes up with the adjusted offer.
Is the Initial Offer the Final Offer?
Before they can make a final offer, they need to actually look at the photos, review all the features and information provided about those features in the seller's disclosure, and then they need to do an outside assessment of the home. After all of that, they will email you a final offer that will detail the "service charge', the estimated closing costs, and any requested repairs.
Wait! What? – "adjusted" . . . "service charge" . . . "requested repairs" . . . "closing costs" . . . that's a long way from the simple whamo bammo closing they promised.
Just like we can quote you a number over the phone or email, we still need to look at the house and that offer might go up or down to a final offer. But where our offer is a final offer, other than closing costs, you know what you are going to get out of your house, right away. And as far as those closing costs go, if we sit down with you and iron out exactly what they might be, we can work with you to make sure you have no out of pocket to cover those: sometimes they can come out of your sales proceeds and other times we can pay them. Either is fine, we just need to define exactly what they are so we are all on the same page.
Opendoor is then going to take out a service fee and have you make repairs or adjust the price for the repairs.
Hmm, not so simple and easy is it.
What are the Fees I will have to pay?
Based on the house we submitted, their initial offer was $106,100. They will have a 5% service charge which is $5,305. They don't know what repair costs we will have until they look at the photos and the seller's disclosure. And their offer estimate does not include the seller closing costs.
Let's break this down.
Service Fee:
If you were to list your home for sale with a local Realtor you could probably in today's market quite easily negotiate a 5% listing commission, we typically see 6%. Then they would list your home and market it to 1000's of buyers, which historically, data has shown will net you a higher sales price.
So if you sell to us at kcmoHomeBuyer – No Service Fee – Nada, Zilch, ZERO SERVICE FEE
If you list with a local Realtor – Same or similar fee and probably a higher sales price.
Sell to Opendoor: 5% fee – note this is from the email they sent us. Other websites show that other people received a 12% fee, but maybe that has come down or is different in another state.
Repairs:
Based on the photos you submit or the video walk-through, the seller's disclosure you provide, and the exterior assessment, they will have some repairs you will need to make or maybe they will reduce their offer price based on the cost of those repairs. Here at kcmoHomeBuyer, our offer takes repairs into account, as we have looked at your home, we have calculated the average value minus repairs to come up with our fair offer price. The same with your local Realtor, they will calculate a listing price adjusted by the needed repairs.
Sell to kcmoHomeBuyer: We are not going to come back to you with any requests for any repairs, or price reductions.
For true transparency, if there is a major structural issue, we may hire a structural engineer to verify our estimates on repair, and if it is more than we think we can handle, we might renegotiate the price or back out. BUT, in over 20 years, we have had about 10 inspections and we have neither adjusted price nor backed out, we have just confirmed our estimates. But it is possible.
List with a local Realtor: The buyer who goes to contract to purchase your house has the right to do an inspection. When we list a home for sale we often get buyers asking for little nit-picky items on a fully renovated house that cost us about $1000, but on an average house, that is not renovated, these repair requests can range anywhere from $1000 to over $10,000 if they ask for example for you to replace the roof. You can decide to not do any repairs, but then they would want to adjust the price.
Sell to Opendoor: And it seems they are going to ask for repairs or price concessions to lower your initial home offer price.
Closing Costs:
No matter how you sell, to us as a cash buyer, with a Realtor, or to Open Door, you will have Closing Costs. What those closing costs might be for each might vary widely.
Sell to kcmoHomeBuyer: Now many cash home buyers out there advertise that they will pay all of your closing costs. Here at kcmoHomeBuyer, we don't say that. The big reason is that just what exactly is a closing cost, what you think it is, and what I think it is might vary. And then after closing, if I promised to pay all the costs and an there is a cost that you thought was a closing cost and I thought was not, you are now unhappy, you write a bad review. Instead, we advertise that if you want us to pay your closing costs, ASK US. We will then sit down with you and define what exactly those numbers will be and if we can absorb those costs, we will, if we can't we might adjust our price to reflect the costs. Typically your closing costs come out of your sale proceeds, rarely does a seller have to come out of pocket to sell us their house.
Selling through a local Realtor: You will have the same typical closings cost as selling to kcmoHomebuyer. PLUS Realtor Commission, PLUS sometimes an administration fee, PLUS sometimes the buyer will ask for you to pay some or all of their closing costs.
Selling to Opendoor: The same closing costs as selling to kcmoHomeBuyer. PLUS the 5% OpendoorService Fee. PLUS Your Realtor commissions and fees if it is listed. And as we don't have a closing statement from Opendoor, we are not sure, be sure to ask if there are any additional fees tacked on – like attorney review fees, or admin fees that they don't list.
What is my home is already listed with a Realtor?
Opendoor shares that if you have your home listed with a Realtor, that they will waive collecting the offered co-broker commission. What does that mean? Well if you have listed your home for sale with a local Realtor, let's say with a 5% commission. Probably your listing agent is going to get paid 2% to 2 1/2%, the buyers' agent is going to get paid 2 1/2% to 3%. If there is no buyers' agent involved, the listing agent gets all 5%. With Opendoor buying your house and waving the buyer's broker commission, they are assuming that your listing agent will work for their 2% to 2 1/2% and that they will allow Opendoor to be the buyer broker and waive the other 2 1/2% to 3%, Bottom Line you still have to pay 1/2 or all of your Realtor's commission plus any of the Realtor's Admin fees.
Now if you sell to kcmoHomeBuyer and your home is listed, we follow whatever agreement your Realtor has with you. But we don't typically buy listed houses, more often sellers call us after their listing expires with their house unsold.
UPDATE 01/06/2022 – In an email to one of the Realtors on our team who submitted a property to Open Door, just to see what might happen – this was one of the items they shared about how real estate agents get compensated when the agent submits the property:
"If you have a listing agreement, we'll honor the existing listing agreement you have with your client. Your client pays you the listing commission and pays Opendoor's brokerage the buying commission. You will be eligible to also earn a 1% commission and Agent Access bonus from Opendoor Brokerage.
Is Opendoor legit?
Well, we did a bit of Googling and the realestatewitch, whoever that says "The main benefit of using Opendoor instead of a traditional realtor, is that you can sell your home on your own timeline. Furthermore, you won't have to deal with the hassle or cost of getting your home prepared."
Note that selling to a local Cash Home Buyer like kcmoHomeBuyer offers the exact same benefits.
The witch further says that "The trade-off is that Opendoor's offer might be lower than what you'd be able to get on the open market. For some, the convenience might be worth the difference in earnings. But if maximizing profits is a priority, then Opendoor might not be right for you."
Again, here at kcmoHomeBuyer we say the same thing. And because we are licensed agents we can not only make you a fast cash offer, we can also offer you a listing option as the agents on our team get paid to buy your house or to list your house, whichever one works better for you, we can handle it.
We also found an amazing infographic on Raleigh Realty that shares their thoughts on the pros and cons of using Opendoor. Click on the link to see the full infographic but it is telling in their Key Takeaway below:
Our key takeaway here at kcmoHomeBuyer regarding Opendoor and other ibuyers
Their fast cash offer, is not a solid offer, they first have to learn more and adjust the price. Our offer is for the most part NEVER GOING TO CHANGE!
They have a lot in fees. We have no fees at all, other than your Realtor Commission if you have one and standard closing costs and even those are negotiable.
If your home is perfect and you have time, you SHOULD list with a Realtor, we can help with that through our sister company Realty Resource.
If your home is not perfect, you can still list it, but if you want to move quickly and cut out all the hassle, a cash offer with a local home buyer will be much more transparent up front, will be less hassle, and will keep the money local.
If you are thinking about selling your home, submit it to us here at kcmoHomeBuyer – we have a simple initial form below that will ask you a few more questions after you submit it. We can talk with you over the phone and then schedule a time to come view your home and provide you with a written, solid, cash offer with no hidden fees. It costs you nothing to find out what we can offer, and if you would be better served with a listing, we can offer you options there as well.
---
Sell My House Kansas City
Get a fair, all-cash offer for your house and get the peace of mind knowing our firm offer does not change just before closing.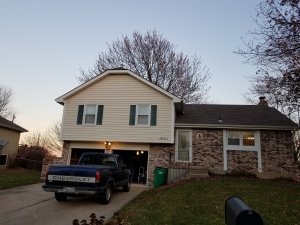 Lifted an enormous burden.
Selling the house closed a long chapter in my life and lifted an enormous burden. Every week I spent at the house either cleaning, keeping up on maintenance, or keeping up the lawn. This was in addition to taking care of my own home. Now I have more time to spend with my kids watching their sporting events and more time with my mom!