Foreclosure effects on a family can be devastating. It does not matter why they are about to lose their home to the bank. Today we are going to look at the foreclosures effects in Kansas City Missouri and what local house sellers need to know. First, we will look at the effects and then ways of easing them.
Foreclosure Effects in Kansas City Missouri to Sellers
Loss of your home – Pretty self-explanatory here. The major end result of a foreclosure in MO is of course the loss of the home to the bank.

Decrease in Your Credit Rating

– Your credit rating will be lowered by the foreclosure. How much? It depends on how high your current credit score is… but the higher your current credit score… the more your score will drop after a foreclosure. If you have a credit score of 680 or higher… you may see a drop of 100+ points.
Depression and Stress – Your mental health is at stake because of the high-pressure situation. Going through a foreclosure is emotionally exhausting and frustrating, to say the least.
House Values In Your Community – Another one of the big foreclosure effects in Kansas City MO is that they tend to lower the overall value of the houses in your neighborhood… especially if there are multiple foreclosures in the immediate area.
How You Can Ease The Effects Of Foreclosure In Kansas City
For the well-being of you and your family, you need to mitigate the effects of foreclosure as much as you can. The process can be frustrating and time-consuming, but there are people who can help you navigate your different options in the process.
Because of COVID, there are a lot of new rules around home foreclosures. Banks and Mortgage Companies have some steps they need to take to find any way possible to HELP YOU before proceeding with foreclosure.
Call your bank and work with them: Most banks are very willing and ready to work with you… if you can show that with their help you can get back on track and save your house. Or, if you just want out of the house but you owe more on the house than it's worth… see if the bank has any programs to lower the mortgage burden so you can get out from underneath it without it going through an expensive foreclosure.
Refinance: With record low interest rates and record-high values, you may find that refinancing your home will solve the problem. With a longer time frame to pay off the loan and a lower interest rate, your payment now may become affordable and the refinance may catch up with your missed payments.
Call a Bankruptcy Attorney: While not for everyone, filing for bankruptcy gives a homeowner time to regroup and find a way to restructure debt, bring the bank loan current to keep the house or to sell the home and get the loan paid.
Talk with a local real estate expert, like kcmoHomeBuyer: We know the local Kansas City real estate market well and are very experienced in the foreclosure process here in MO. We can even negotiate with your lender if you owe more on it than the home is worth. Give us a call at (816) 408-3600 and we can guide you toward the resources that can possibly help you.
Sell your house: If you'd rather find a way to sell your house and avoid foreclosure altogether, great! We buy local Kansas City houses for cash… and would love to look at your situation and make you a fair all-cash offer on your house. Just call us at (816) 408-3600 or shoot us your details through this website.
For more resources when facing foreclosure, please follow this link: https://www.fdic.gov/consumers/assistance/protection/mortgages/fc-prevention/consumer.html
With the above knowledge on foreclosure effects in Kansas City – what sellers need to know, you can guard yourself by calling kcmoHomeBuyer at (816) 408-3600 and we shall assist you in the shortest time possible to sell your house. However, to fast-track, the process, kindly fill out our website contact form to give us more information about you. We'd love to connect with you and help you find the best solution!
Download Your FREE Stop Foreclosure Guide Below
Just put in your name and email, click "Submit" and we'll email you the Free Guide right away.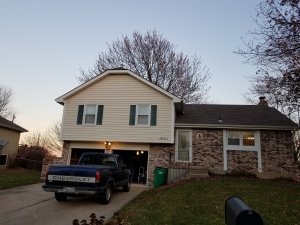 NOT PENALIZED FOR NOT GETTING EVERYTHING CLEANED OUT OF THE HOUSE
I liked the fact that I wasn't penalized or felt pressure for not getting everything cleaned out of the house. There was over 40 years and three families' worth of treasure stored in the house, making me feel that the challenge of cleaning it was going to be impossible. I did what I could and you never hesitated in telling me that it's ok to leave the rest behind.