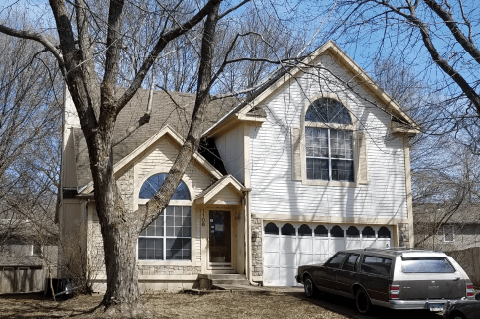 Crystal was Glad to Sell That House
Or Rather THAT Unholy Mess of a House
Crystal got hit with hardship after hardship facing 3 deaths in her little family circle in a little under 2 years. She had a lot on her plate and managing this house in Olathe, was a huge burden. Besides all the issues that go with a father, a husband and a brother passing, she was faced with cleaning out this house and getting in "Realtor" ready in Olathe and she lived out of town.
Crystal had received a letter from kcmoHomeBuyer and had meant to call us, but got busy with other issues. Kim here in our marketing department ran across Crystal's profile on Facebook and remembered sending the letter. She sent her a message and Crystal was ready for someone to help her with one problem on her plate, this house in Olathe.
Scott was able to schedule a time to visit the house and in a few short weeks, this house was no longer Crystal's problem.
Crystal shared "that house has been a stone around my neck for the past ten months. I'm so glad that your mom friended me on FB and got things rolling, I've had a lot of deaths in my family in the past seventeen months, (my father, my estranged husband, and my only sibling–my brother). I have been swamped trying to deal with it all simultaneously. You guys took me by the hand and drug me through what needed to be done, and I appreciate that.
Helping people through the maze of getting a house sold is one of the best benefits of working with Scott and the team at kcmoHomeBuyer. As they have been buying houses since 2000, they know the process, they know the paperwork and they have the backing to buy houses and act fast. They can buy pretty houses and have no problems taking on houses that are a mess as this Olathe house was.
Crystal also shared "It was great not having to go in and clean up that unholy mess and worry about disposing of everything. I hope you guys make a good sale on the property, I'll be only too happy to refer you to others."
So if you are faced with a house or an investment property that is an "UNHOLY MESS" that you just don't want to deal with, please take a few moments to tell us about the property  on our website.  Scott or one of the team will give you a call.  This home happened to be in Olathe Kansas, but we buy all over the Kansas City Metro.
Sell Your Home with NO Hassle
Get a fast fair offer cash offer from Kansas City's leading home buyer.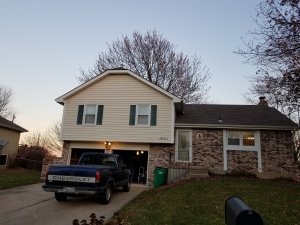 NOT PENALIZED FOR NOT GETTING EVERYTHING CLEANED OUT OF THE HOUSE
I liked the fact that I wasn't penalized or felt pressure for not getting everything cleaned out of the house. There was over 40 years and three families' worth of treasure stored in the house, making me feel that the challenge of cleaning it was going to be impossible. I did what I could and you never hesitated in telling me that it's ok to leave the rest behind.