Is It Time to Buy a New Home
There are many reasons people decide it's time to buy a new home. Sometimes their house is bursting at the seams with too many people and there just is no more room. Perhaps the house is too big and you just don't use half the rooms. Or it might be that it needs to be updated and the owner is just not up to the task.
Whatever the reason you are buying a new home, it's clear that if you currently own a home, you probably need to sell it. And if you have to close on the new home fairly quickly and you don't have the old home sold, you need to move fast. And if you need the money from the sale of the old home, you might need to coordinate that timing.
Will Your Buyer Back Out
If you go with the traditional Realtor listing model or the for sale by owner model to sell your house, what if your buyer backs out? Sure you can get the house ready to sell, market it to find a buyer, and quite possibly get a contract on the home fairly quickly. But the house is not closed and you are not paid until the money is in your hands.
There are several points in a traditional sale transaction where the whole deal can blow up. Your house does not sell and you are not buying your new home.
Showing the Parents: Now this is where a lot of home sales get derailed. The buyers love the house, get it under contract and THEN bring Mom and Dad over to look at it. Mom and Dad don't like it and talk them out of it. And while there is no mom and dad approval clause in the contract, one of the other out clauses will save the day.
Inspections: This is where the buyer hires an inspector to come look at the house and tell them what's wrong with the house. A good inspector will point out all the flaws. Maybe the buyer noticed the flaws, maybe they did not. Either way, they just might ask YOU to make repairs. And if the flaws are just too scary, the buyer may cancel the contract. And if Mom and Dad didn't like the house, there will be insurmountable flaws.
Inspection Repairs: If the buyer is not scared off by all the flaws found by the inspection, they may take the house as it is and you have passed this hurdle. The buyer may also feel that you need to make a few repairs or lower your offer price, it's a negotiation and if you don't come to an agreement, the sale gets canceled.
Appraisal Issues: Of late in the past couple of years we have also seen this kill a lot of deals. Sometimes the buyer has made an offer that seems rather too good to be true and when the appraisal happens it is. The appraiser can't justify the sales price and the buyer can either back out, bring more money to the table, or ask you to lower your price.
Last Minute Cancellations: With all the houses we have sold over the years, we have seen many home buyers back out on the day of closing for a lot of reasons. God told one guy not to buy. Another went out and spent a bunch of money on appliances and furniture the weekend before closing and then they could not get their loan. A few others lost their jobs. They didn't close. Sure you could sue for performance but that takes time and does not get your house sold.
People work through these issues every day and sell houses and buy new ones. But sometimes they want or need an alternative, that's where a legitimate house buyer who can pay cash steps in.
Don't Want the Worry of the Buyer Backing Out
There are other sellers who have coordinated everything, but days or hours before that closing it all falls apart. They need a local home buyer that can act fast, step in and close in the place of the person who backed out, and who will follow through and do what they say.
This is where Kim & Don and Scott with kcmoHomeBuyer can help. Take a minute to check out how our home-buying process works and see how we can help alleviate your fears or challenges so you can buy a new home.
Sell Your House on the Date Of Your Choice
When you are buying a new home there are a lot of things that can go wrong. And taking away the worry that the buyer will close and you will have the money you need is where we can help. Once we come to an agreement on the price, we can close quickly or on a particular day in the future. That way you can plan everything around that date. Plus if you have delays on your closing on the new house and need to delay closing on the old house, we are very flexible.
In some cases, Scott, who is our Realtor, has helped our sellers find their new homes. With a ready willing and able buyer who can close whenever needed, they were able to go out and confidently buy their new home.
Finding a New Buyer Fast
And should your buyer back out within only a few days or a few hours of your closing, we can help. We may not be able to close within a few hours as we do have to move money and the title company has to redo all the paperwork. But we can and have closed in a matter of 2 or 3 days in situations like this.
If either of our scenarios above seems to fit your situation, take a minute to see how our home-buying process works, learn a bit more about us, and see what our past customers have to say. Then reach out using the form below to start the process and sell your house.
Get Your Free Offer TODAY!!
Just Fill In This Form To Get Your No-Obligation All Cash Offer Started!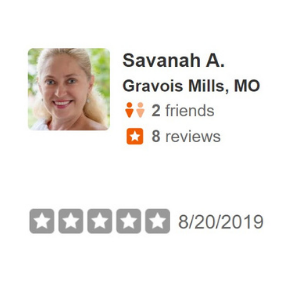 "Closed on my Schedule"
I loved working with Scott and the team at kcmoHomeBuyer. I was downsizing my house and moving to something smaller. Timing was everything and since I am not handy doing all the little things the realtor wanted me to do was not going to happen. They made an acceptable offer for my house, even took the stuff that I could not move to my new place and closed on my schedule so the timing worked out.
~ Savanah A from Gravois Mills, MO