Family members or close friends commonly create a will leaving their property holdings to their next of kin or people who meant a lot to them. Inheriting a home is quite common, yet the property is often unwanted. Leaving a recipient holding what is often an unaffordable property, due to upkeep, property taxes, and any homeowners or property owner's association fees.
For example we had a nice couple with 2 kids give us a call a few years back. They had inherited a house from their grandmother about 4 years ago. There as no mortgage owed on it so they moved in. But the annual real estate taxes were rather high and the monthly home owners association dues were quite expense as it was on a golf course. They had not paid the taxes or the HOA in the 4 years they had lived there. There were also several items that needed fixed. They called us a week before the tax foreclosure sale and we were able to pay off the taxes, pay of the Home Owner Association and put cash in their pocket so they could move to a more affordable home.
So while you might be lucky or unlucky as the case may be to inherit a home, if you don't really want it . . . SELL I!
here are 5 tips for selling an inherited house in Blue Springs.
Prepare for Probate
An inherited property will likely have to go through the process of probate, depending on how the property was deeded. Local and state laws vary in the matter of inherited property. For those who have completed probate, there may be additional probate required within the county or state of the property, especially if it differs from your location in order to gain full legal rights to the property.
Being prepared in advance before you inherit is the best tip so that probate can be avoided. But if that is not possible reaching out to a good probate attorney is a good tip for selling an inherited house in Blue Springs.
For Sale By Owner
For sale by owner, or FSBO, is one option to consider when selling a house you inherited in Blue Springs. Often our emotions put an added value on a property, which has little to do with the realities of real estate valuation. Do a little research to see what similar properties to yours are selling for a good idea of what a fair market value is, that way you are not shocked when you realize the current market value of your home.
Be sure to fix all the little things, get it as clean as you can, remove all the clutter. Then get some good photos of the house and the rooms (not the furniture) and start marketing it online. Be ready to take calls, handle showings, negotiate with buyers, and handle all the paperwork.
Real Estate Agent
If you do not want to be a landlord or live in housing you may have inherited and you don't want to deal with selling it yourself, listing with an agent is another option for selling an inherited house in Blue Springs. Listing your house on the real estate market with an agent usually means prepping to bring the home to market, which may include upgrades or serious repairs, covering professional photography fees, marketing, and staging the home. Add in real estate fees and commissions, as well as some closing costs.
Professional Buyers
Professional buyers will take the time to listen to your specific circumstances and help you decide which of the possible options of selling your unwanted inherited property is best for you, even if that means listing with an agent. Selling a house you inherited in Blue Springs to a professional buyer is often the best option for the property. Keep in mind, cash buyers with quick closings will probably offer you a bit less than average market value when selling an inherited house in Blue Springs. This is because they save you from all the costs involved with listing a property. There is no prepping, upgrading, marketing, or any other of the costs associated with other options.
kcmoHomeBuyer makes the process easy for you, with guaranteed quick closings with a firm offer, and no surprises at closing. Please call us at (816) 408-3600 to discuss the market value of the property. Contact kcmoHomeBuyer to learn more about what to do with your unwanted inherited house. We're happy to answer any questions you may have, including the potential probate on the property in Blue Springs, Missouri. Give kcmoHomeBuyer a call at (816) 408-3600 today! Oh, and check out our free guide to the right on selling an inherited home.

You might also check out blogger local for their top 10 estate attorneys and their top 10 estate sale companies.
Great experience

Great experience.  I was selling my father's house. Very glad he sent a letter.  The house was dirty, it was stinky, it was packed with junk.  I just didn't want to deal with it. If you want a hassle free sale, give Scott and kcmoHomeBuyer a call.
Sell Your Home with NO Hassle
Get a fast fair offer cash offer from Kansas City's leading home buyer.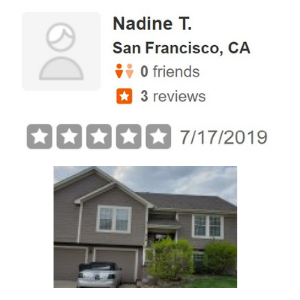 My experience with this company was just totally amazing. I am very thankful for contacting this company.
If you want to sell your home, please contact Scott Tucker at kcmoHomeBuyer.com. My experience with this company was just totally amazing. Hassle-free no agent fees, costly inspection repairs, no open house days, no never-ending potential buyers who want to deduct this and that from the asking price. Scott Tucker gave me a very fair price for my home. Also, after I agreed to a closing date, I needed an extension date and they agreed to my time frame. Scott Tucker was awesome to work with from start to closing, with no hidden fees. I am very thankful for contacting this company. Thanks again from Nadine T.