Selling your house to a wholesaler can be an excellent way to quickly sell your house in Prairie Village without additional costs or wasted time! It can also be a complete and total nightmare if you pick the wrong one.  Learn more about the benefits and what you need to watch out for in our latest post!
Should You Sell Your House to a Wholesaler
When it comes to selling a house in Prairie Village, many people fail to consider the many benefits of working with a wholesaler to help facilitate the process of selling their home. For some properties, working with a wholesaler can be a wonderful and lucrative option. If you need a way to sell fast and save money in the process, a direct sale via a local wholesaler may be the best option for you!
Be sure to do your homework however to make sure you are working with a good one!
A Fast Closing
When you sell your house directly to a wholesale buyer, you want to find someone who is ready, willing, and able to close almost immediately. You want to work with someone who has the cash in hand or access to it, so they can close almost immediately. That means that once you've accepted an offer, in about a week to 10 days, depending on how fast the Title Company can do their job, you should be ready to sell your house in Prairie Village. You'll want to be able to move and have the house cleared of your belongings right away! A fast closing can be beneficial to both the buyer and the home seller!
Now because not all wholesale buyers are created equal, you do want to do your homework. Here at kcmoHomeBuyer we have some of our cash ready to be deployed in a savings account and in our retirement accounts. We also have access to funds from 4 different private lenders who are able to fund a transaction in about a week. And because we've been doing this for so long, we also have a few other backup lenders, just in case. But many of our competitors don't have this available cash, either because they are new or because they utilize a different buying model, they instead get the house under contract to purchase and then go out and market the home for sale to their list of potential cash buyers. If they are not able to find a cash buyer, they will not buy your house.
Here at kcmoHomeBuyer we do from time to time work with other buyers, but we are ready, willing, and able to close on every contract we write.
No Repairs Required
When you choose to use a wholesaler to help sell your house in Prairie Village, the property will usually be offered as-is. This means you won't have to spend time or money fixing up. The people investing in your property will want to do the repairs themselves. Giving the opportunity to renovate with their own tastes in mind is a big perk for many buyers and can be used to your advantage. This makes the entire selling process much easier for you. You will be able to save both time and money that you would have otherwise spent if choosing to list your house in Prairie Village.
We strongly urge you to consider this factor of working with a wholesale buyer. Many times we see homeowners who work and struggle for months, even years trying to make repairs and updates to a home. They either never quite get them done, they do them badly, or they pick the wrong colors and finishes. The end result is a ton of time and money wasted that doesn't really do anything to add value or marketability to the property. So before you embark on a major repair or update to a house just to get it ready to sell, reach out and see what a wholesale buyer might offer.
No Property Showings
Imagine being able to sell your house without the endless cleaning a listing requires. When your house in on the Prairie Village MLS, you will need to keep the house in good shape and showing-ready. Often times, you will get people who want to see the house last minute and it's important to be prepared for this. When you list, you want as many people to see the house as possible! However, when you work with a wholesaler, you won't have to make the house look like a catalog or deal with people who want to see it at all hours of the day.
So if you don't mind showings, spend some time getting the house clean and show ready. Invest in a few laundry baskets that you can run through the house and pick up at a moment's notice and hide stuff away in the closet – or toss it in your trunk of your car as you leave during the showings. But if showings and staying show-ready clean at all times is just not for you, then you just might want to see what the local wholesalers might have to offer.
No Open Houses
No showings also mean no open houses. Opening your doors to groups of strangers isn't the most comfortable thing for some people. Imagine people walking through your house, looking at every nook and cranny, making judgments and finding flaws. Many people don't like the idea of this. You can avoid this part of the selling process by selling your house with a wholesaler in Prairie Village. When you work with a local wholesaler, you won't have to deal with any open houses, marketing, professional photography, or keeping the house in tip-top shape.
No Wondering When You Will Close
When you choose to work with a property wholesaler, your timeframe will be laid out upfront. The wholesaler will need to have an acceptable offer on the table within a specific amount of time, otherwise, the deal can be called off. Knowing when the house will close allows you, as the home seller, to plan ahead. You will be able to plan your move, without having to live in limbo as a traditional listing will often require.
So here at kcmoHomeBuyer, once we write a contract and agree upon dates for closing you have a schedule to work with. We do recommend planning your move, on the dates we agree upon. However, if you think there might be issues with title or if you are personally facing some financial difficulties like tax liens, bankruptcy or potential lawsuits, you might want to wait until we have the preliminary title work back so we can determine if there are any issues that might hold up progress. We can generally solve most of these issues, but we do want you to be aware that Title Issues can cause delays.
What about our competition. Some of our competition will just back out at the last minute leaving you high and dry. Sometimes they back out because of lack of funding and their inability to find a buyer who will purchase the home from them. Others get stuck when the title has issues and can't figure out a way to solve them. If you have had a buyer back out on you for any of these reasons and you still need to get your home sold, give us a call here at kcmoHomeBuyer and we can see what we can do to help you out.
No Cleaning
When you list your house, you will possibly need to have the house professionally cleaned. If not the whole house, many people will bring in professionals to clean the carpets or other specific areas of the house. The house will need to look perfect in the listing photos as well as when people want to come to see it. All of the cleaning and preparation can be exhausting and it isn't always worth it!
No Commissions
Maybe the best part of working with a Prairie Village wholesaler, is that you won't get stuck paying any agent commissions or fees. At kcmoHomeBuyer all financial information is disclosed upfront. You will never have to pay a dime of commissions or agent fees in order to sell your house fast in Prairie Village.
If you choose to work with a Prairie Village wholesaler, keep in mind that not all of them are the same! Do your homework on who you are working with, making sure they are someone you can trust! Get in touch with kcmoHomeBuyer at any time if you have questions about what to expect when selling your house with a wholesaler in Prairie Village or if you want to discuss your property in greater detail.
Are you thinking about selling your house to a wholesaler in Prairie Village? Reach out to us, we will happily answer any questions you have! As people who wholesale from time to time, we know how it works.
Sell Your Home with NO Hassle
Get a fast fair offer cash offer from Kansas City's leading home buyer.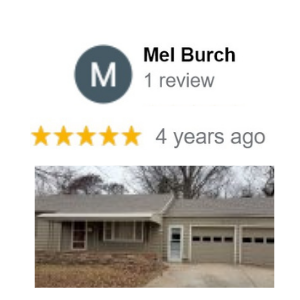 IT DOESN'T GET BETTER OR EASIER THAN THIS
This was a great experience. Scott paid us our asking price, and we closed in less than 30 days. It doesn't get better or easier than this!