How Do I Sell My House In Kansas City Fast?
We Pay Cash For Your KC Metro House . . .
Here's How It Works . . .
---
By buying directly from you with cash we can eliminate a lot of extra steps like showings, inspections, appraisals, etc. This simplifies the process into 3 easy steps!
---
Get Cash for Your House – Here's How . . .
Selling Your KC Area House
the No Hassle Way!
Hi, I'm Scott, one of the team members here at kcmoHomeBuyer. With the help of my trusty sidekick, we will help you through the 3 simple steps it takes to get you on your way to receiving your no-hassle offer. Don't worry it's not hard, it does not cost anything and you have no obligation to accept.
Send us your basic info. We'll call to set an appointment.
We'll walk through and make a solid written offer.
If you accept our offer, we set a closing of your choice.
"This family team are great people to deal with, very friendly and helpful. They made selling my house easy, convenient and quick, and gave me the highest bid for my property. I highly recommend them!"
Crystal W from Olathe, KS
Told You… Easy As
But what goes on behind the scenes between submitting your info and closing day?
To make an informed decision on how you sell your Kansas City Metro area home, you are here seeking knowledge.
Which is probably why you are here . . . you want to know "How It Works" . . . Right?
Take the First Step!
---
Just Fill In Our Form To Get Your FREE, No-Obligation All Cash Offer Started
---
Comprehensive Guide:
How to Sell Your House for Cash
Selling your house can be a huge hassle, especially when you go the traditional route of fixing everything up, cleaning everything out, and making a bunch of repairs or updates to get it in tip-top shape. Great way to sell a house, for those that can do it but for people that don't have the time, the energy, the money or the emotional stamina . . . there is a much easier way to sell your house – fast – for cash – now.
Our guide will walk you through the entire process that a cash home buyer, well ok, kcmoHomeBuyer uses so you will be an informed home seller.
The Seller's 3 Simple Steps
We get it, you have a lot on your plate, so let's break down those 3 Simple Steps
Send Us Info: Either fill out a form or give us a call to tell us about the house. We will call you to set up an appointment to look at it. For this step, it is important that you have a reliable way for us to call, text, or email you.
Show House: This step entails us walking through the house with you or a friend. This is where we spend time gathering info on what needs to be repaired or updated. This is the info we need to prepare a solid, written offer that we can stand behind. If you accept our offer, we get everything signed and send it to our title company.
Close & Get Paid: After you agree to our offer, we schedule a closing date and time that fits your timeline. This can be in as little as a week to 10 days to a few months out on the date of your choice. Then we close and you get paid.
That's it for the seller's steps. . . but what is the buyer doing to evaluate your house, make you an offer, and get you paid?
Let's dig in . . .
What is a Cash Home Buyer?
A cash home buyer is someone who is using their own funds to cover the full purchase price of the home, meaning they aren't taking out a loan. These funds could come from savings, investments, or the sale of another property. As the buyer is using their own money, they are the ultimate decision maker, so they don't have to wait for lender approvals, 3rd party home inspections, or appraisers. eliminating a ton of time.

RocketMortgage
So, the big question – do the Tuckers have the cash? You betcha!! But as you can imagine, sometimes we have a few more houses than cash. When that happens we have several private partners that step in with their own cash to help. And because we don't have inspections, appraisals, or lender approvals, we can close in as little as a week to 10 days!
________________________________________________________________
Picking The Best Cash Home Buyer
We get it. You want to sell your house for cash, do it quickly and get on with your life. You may have received a few letters or postcards. You might have had some phone calls or texts. You are online doing your research to figure out who to trust. So which cash home buyer is better?
We have four items that we think are key:
Do a simple online search and review the results. Skip paid ads that are generally marked as "ad" or "sponsored."
Look at the top homebuyers. Look for REAL, LOCAL, PEOPLE. Check online reviews, what do past sellers have to say?
Will the buyer physically walk through your house? Online, sight-unseen buyers tend to lower their offer price or back out at the last minute.
Look for a firm offer in writing that you can review with a trusted advisor. No hard sell to sign immediately.
________________________________________________________________
Get Your Cash Offer Started
Ready To Sell?
Irvine was ready to take what he wanted and leave the rest!
Ready For Your Offer? There's nothing to lose! It's FREE and you have no obligation!
"We took Scott's offer, he made the process very easy and convenient, we could even sign things via email. We didn't have to finish cleaning out the house, we didn't have to make any repairs and no more going to mow the yard."
Sylvia G from Kansas City, Mo
_________________________________________________________________________________________________________
Calculating Our Best Offer
To Buy Your Kansas City Home
Many of the "We Buy Houses for Cash" companies will either make super lowball offers, which rarely get accepted. Or they offer the exact asking price only to back out after inspections. We would not have been in business for over 20 years if we utilized these methods. Instead, we spend considerable time and effort reviewing your house and crunching the numbers so we can bring you Our Best Offer, a Fair Cash Offer. . .
All this analysis is 100% FREE to you!
It's in Our Best Interest to Give You Our Highest Possible Offer!
---
"Kim & Don have been buying houses since 1999 by getting offers accepted, and the only way to do that is to give you an offer that makes sense for you!! We really do our best to give you the highest possible offer we can. Plus we've learned a thing or two over the years, which allows us to give you some options. Now you know why we have so many great reviews! 😊"
How We Calculate Our Highest Possible Offer
the "formula"
It's just a few numbers . . .
[After Repair Value] – [Cost Of Repairs] – [Our Hard Costs] – [Our Minimum Profit]
Let's Define Those Numbers:
After Repair Value
This is a fancy way of saying we want to know what your house would be worth once it's all fixed up and listed for sale. We review all the houses in your neighborhood that have recently sold and the repairs and updates that have been made and their sale prices.
That tells us that if we make the same repairs and updates we should be able to sell your house for a similar price – the After Repair Value.
---
Cost of Repair
This is the hard one. We want to fix everything that is old and broken. We also want to update EVERYTHING to modern finishes. At the bare minimum, we want to make it look as nice as all those neighboring houses we looked at. Optimally we want to make it look nicer, maybe even like the houses we see on HGTV.
We get our contractors to give us estimates that we add up – the Cost of Repair.
---
Hard Costs
Although you pay no commissions or fees when you sell a house to us, AFTER we get it all fixed up we use an agent to sell. So we have commissions, closing costs, taxes, holding costs, etc. Hard Costs are generally about 10% of the After Repaired Value.
Our Profit
Profit is another thing we must have to stay in business to buy and fix up more houses. We are not out to make the huge profits you see on TV shows. Instead, we target a small minimum profit that will keep us in business and pay our bills. Our Minimum Profit is generally $30,000.
---
An Actual Case Study
All these hypotheticals are great, but can we talk about a real house with real numbers?
Let's look at the North Wayne
A typical 30 to 40 year old home, North Wayne had been maintained, but not updated. It had two bathrooms and a kitchen that were stuck in the previous century. It needed a lot of work.
We took a look at the neighbors and all their updates and here is what we came up with:
After Repair Value: Based on what the houses in the neighborhood were selling for, we determined that if we put in the work to bring this house into the current decade, we should be able to sell it for $270,000.
Cost of Repairs: This house needed a lot: 22 replacement windows, garage doors, openers, a new kitchen, 2 bathrooms remodeled, light fixtures, hardwood floors refinished, electrical outlets modernized, interior and exterior paint, and new flooring in a few rooms . . . our total cost of repairs $65,000
Hard Costs: Remember we said about 10% of the After Repair Value, so right at $27,000
Minimum Profit: $30,000
Plug all that into the formula below . . .
Our Maximum Allowable Offer
[After Repair Value] – [Cost Of Repairs] – [Our Hard Costs] – [Our Minimum Profit]
$270,000 – $65,000 – $27,000 – $30,000
$148,000
---

Could We Sell It As Is?
Selling a home As Is, means selling it as it sets with no repairs made. Just clean it out, clean it up, and list it for sale. That is an option we discuss with some sellers who want a bit more than what we are able to offer. But the trade-off in getting a bit higher price is the real estate commission and all the work getting the house cleaned out and ready to be listed. Sometimes it's easy to get a house ready to be listed, other times it can be a daunting task.
For this North Wayne House, the seller could have called in some friends to help him pack up all his stuff. Then hired a real estate agent to sell it "As-Is" for $160,000. But for that $160,000 he would have had several more weeks of cleaning out the house, a real estate commission of about 6% or $9,600, and a potential buyer would have had a tough time getting the house to pass inspection for a loan. Net Proceeds $150,400 before closing costs.
---
What Does This Mean for You?
Let's continue with our case study house on Wayne. The seller had the option of selling to us in about 10 days for $150,000, taking only the stuff he wanted and leaving everything else. Or he could have spent another few weeks to get it cleaned out, another month or so marketing it with an agent, to net about $150,000 after paying a real estate commission and closing costs.
Think about that for a minute, on this Wayne house, the nice seller was moving to an assisted living with much less space. He had some family and friends helping him, but they didn't have a lot of time. So with their help, he packed up the stuff he wanted and left all the other stuff for us.
If you just don't have time to waste, a solid cash offer you can trust to close on the date of your choice just might be your best option. Plus you can take the items you want and leave the rest for us. What would you do?
Get a FREE Analysis of Your House
Don't you owe it to yourself to see your options? Simply fill out the form below to get started. Our analysis is 100% FREE to you and you have no obligation to accept the offer. Take it or leave it, you will be better informed.
---
What Makes Our Offers Better?
Sure . . . everyone says they are better. But there are a few things that we think set us apart from other cash buyers.
We Answer the Phone: Give us a call and it will be answered. If you have questions, we don't want to leave you hanging.
Local: We are local and can easily schedule time for a home analysis. We want to actually see your house so we can make an accurate inspection first.
Experience: With 20+ years, we have the experience to solve a lot of problems. Between our 20 years and all the people on our team, there is not much we can't solve.
Realtors: As real estate agents licensed in Kansas and Missouri, we have a few more tools in our toolbox that help us provide options and create solutions.
Last Minute Questions
You've made it all the way through the guide, now you are very well informed on how everything works.
Perhaps you have a few last minute questions?
Our home sellers who have worked with us, have great things to say about our services:
"I was in a probate/estate sale situation. My father passed away with no will. I had to go to court just to be named the administrator. I didn't no what to do or who to call. I heard about KcmoHomebuyer and gave them a call. I met Scott at my father's house. He was very, very sincere and helpful. I was pleased with his offer and as they say, the rest is history. If you need to sell, no matter the situation, please, don't hesitate to call Scott at KcmoHomebuyer. You will not regret it. Thank you so much, Scott!!"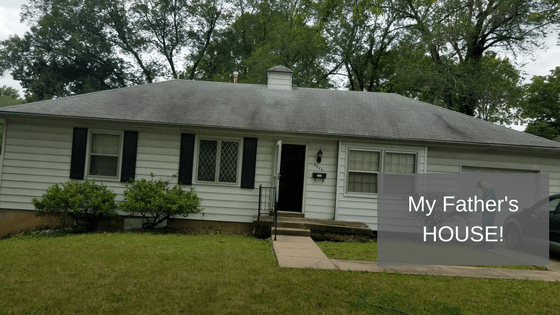 Jeanie T from Overland Park